There are so many compact luxury SUV choices on the market these days that when it comes time to research your next purchase, the decision can be a little daunting. So, in our efforts to find the right luxury vehicle for you and your family, our team here at Mercedes-Benz of Northlake have compared the newly redesigned second-generation 2021 Mercedes-Benz GLA and the 2021 Audi Q3. We'll give an in-depth breakdown of some of the differences in performance, comfort, and space to show you how the new 2021 Mercedes-Benz GLA distinguishes itself from the pack.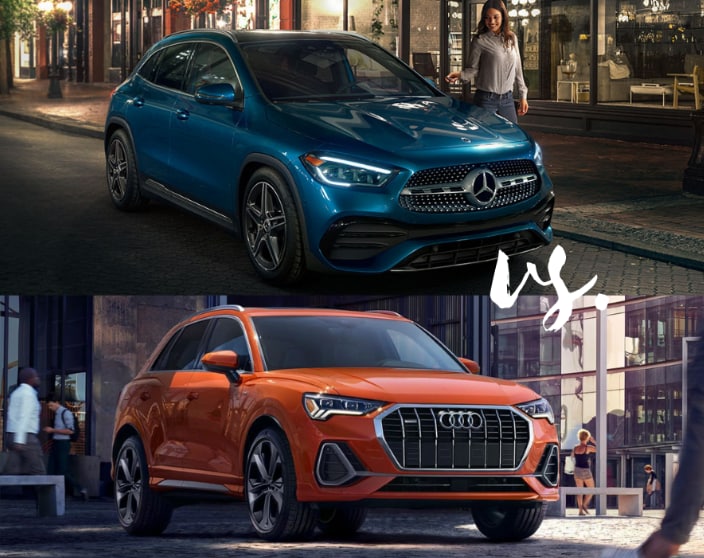 Performance, Transmission, & Engine
2021 Mercedes-Benz GLA
The new Mercedes-Benz GLA comes with a 2.0L inline-4 turbocharged engine that pumps out 221 horsepower with the option of an upgraded AMG engine with 382 horsepower. The engine is coupled with an eight-speed automatic transmission that allows for a flawless acceleration of 0 to 60 in less than 7 seconds (sub 4.3 seconds in the AMG GLA 45 SUV model). This newly redesigned engine has an impressive fuel economy rating of 34 mpg on the highway and 25 mpg in the city and 258 lb-ft @1,800 rpm torque. As you can see, Mercedes-Benz has packed a lot of punch in this compact luxury SUV.
2021 Audi Q3
The Audi Q3 base model comes with a 2.0 liter four-cylinder engine with 184 horsepower and a max torque of 221 lb-ft. This engine is also turbocharged, but only reaches 0-60 in 8.6 seconds. While the 2021 Mercedes-Benz GLA has the option of front-wheel drive or all-wheel drive, the Audi Q3 comes with a standard Quattro® All-Wheel Drive drivetrain and an eight-speed automatic transmission. This model also loses out in fuel economy with a highway rated 30 mpg and a city rated 22 mpg.
Interior Design
2021 Mercedes-Benz GLA
With this newly redesigned compact luxury SUV, Mercedes-Benz has extended the amount of cabin space to give the 5 passenger vehicle 41 in. of front-seat legroom and 38 in. of rear legroom. The second row seating is designed with a new 40/20/40 flat-folding technology to easily offer access to the over 50 cubic feet of cargo space, making this one of the most versatile luxury SUVs on the road. With the new Mercedes-Benz User Experience (MBUX) technology, you can tell your GLA to lower the temperature or reroute you to the closest coffee shop (with the available MB Navigation). And if that's not impressive enough, this year's second-generation Mercedes-Benz GLA comes equipped with Mercedes me connect that connects to your phone and allows remote-start from your fingertips (among other exciting technologies).
2021 Audi Q3
The Audi Q3 also has seating for 5, but the people in the back might be a bit cramped with only 36 inches of legroom. And that's not the only place where the interior measurements differentiate between the Mercedes-Benz "compact" SUV. The Audi on has a full cargo volume of 48 cubic feet with the second-row seating folded down, making the Audi Q3 a less versatile model than the Mercedes-Benz GLA. The Audi Q3 interior's main focus is on the standard Audi MMI® touch response system. This piece of technology is impressive, but again, falls short of the Mercedes-Benz GLA in this category.

Exterior Design
2021 Mercedes-Benz GLA
Depending on the trim level, the Mercedes-Benz GLA comes with 18, 19, or 20-inch wheels. With a sleek new exterior design, this model comes in the following eight colors:
Polar White

Night Black

Digital White Metallic

Cosmos Black Metallic

Iridium Silver Metallic

Mountain Grey Metallic

Denim Blue Metallic

Patagonia Red Metallic
2021 Audi Q3
There are only two options for the Audi Q3 wheels with a standard 18 inch 5-arm design or a 19 inch multi-spoke design. The Audi Q3 also comes in nine colors including:
Ibis White

Pulse Orange

Navarra Blue Metallic

Chrono Gray Metallic

Florett Silver Metallic

Glacier White Metallic

Mythos Black Metallic

Nano Gray Metallic

Tango Red Metallic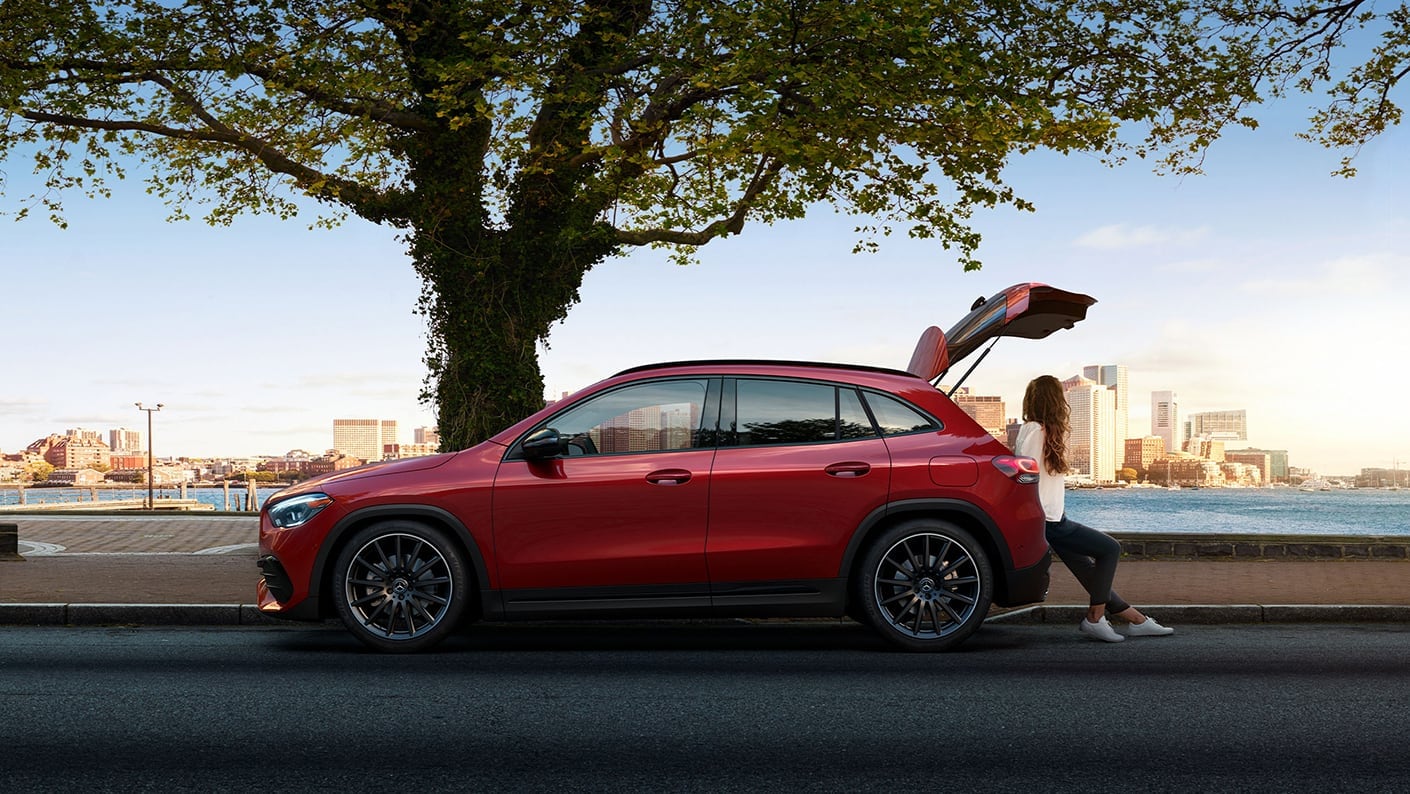 2021 Mercedes-Benz GLA vs. 2021 Audi Q3: The Winner
As you can see, there really is no comparison between the two luxury small SUVs. The clear winner of the two is the newly redesigned, second-generation 2021 Mercedes-Benz GLA. It surpasses the Audi Q3 in all metrics of performance, interior, and exterior design. So, shop our online SUV inventory, contact our team members at Mercedes-Benz Northlake to set up a test drive, and come in to see for yourself why the new 2021 Mercedes-Benz GLA is the perfect compact SUV for you!